Well, well, well. Pigs have flown, hell has frozen over and I'm going to look for that hot cheerleader from high school who wouldn't go out with me...Andy Roddick has beaten Roger Federer. 7-6, 4-6, 6-3 in the Sony Ericsson Open. The newly Sports Illustrated swimsuit model engaged Roddick is the second newly engaged American player to bounce Federer in consecutive tournaments. The first was courtesy of Deal or No Deal briefcase model engaged Marty Fish at Indian Wells two weeks ago. (You couldn't make this sort of thing up if you tried.)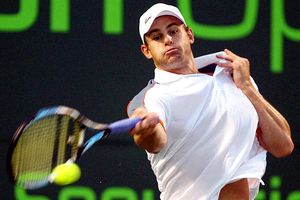 Right about now I'd love to be the proprietor of a Zales in Key Biscayne Florida. I'm willing to bet there is a line out the door of American tennis players. Imagine Robby Ginepri, James Blake, John Isner and Sam Querry lining up to buy engagement rings and then hitting the town looking for some kind of model to propose to. Heck, who knows if they even have to be hot. I can see Querry throwing the rock to some professional foot model for women's plus size stockings. (Not that there is anything wrong with that...do your thang boy!)
First, you have to hand it Andy. He served tremendously well tonight and played the big points better than Federer. Roger didn't play that poorly, he just went flat after 3-all in the third set. Federer has to be asking himself some serious questions after his less than stellar start to the season. Is it the mononucleosis? Is everyone else getting better? Is Fed getting worse? Is Mirka preggers?
Whatever the problem, the solution is simple. Federer needs to reapply himself. No more hitting with juniors and playing expos with Pete Sampras. No more hobnobbing with Anna Wintour and posing for the cover of Men's Vogue. (Seriously dude, you've circled the metro globe twice in one year.) I think Feds should put a moratorium on double dates with Tiger. Besides, Tiger's focused on winning another green jacket and I doubt he wants Feds current funk to rub off on him. Here's a novel idea...now would be a good time to revisit the idea of getting a coach. I hear that Brad Gilbert and Jimmy Conners are available, not to mention the well qualified Darren "Killer" Cahill.
Don't get me wrong. I'm not hating on Federer as he's one of my favorite players. I still believe he has the potential to be the greatest of all time (GOAT). But just like another one of my favorites, Andre Agassi, Federer has been distracted from the game and it's provided ample time for others to catch up to him.
Then again if he wants to take an alternative approach, maybe he should just get engaged! :o-